Bald Head Island Festivals
The Annual North Carolina Oyster Festival offering a fun mixture of new activities and old favorites that are certain to entertain the entire family!
People come from far and wide to visit the Oyster Festival, a favorite festival to anyone who has been.
The coastal waters of Brunswick County provide an abundance of the marine mollusks each year bringing over 30,000 people to Ocean Isle Beach to celebrate the tasty treat.
The North Carolina Oyster Festival will feature live entertainment, arts and crafts, vendors, festival food, NC Oyster Festival Road Race, NC Oyster Festival Tennis Tournament, Surf Contest, a girls Beauty Pageant, a kid's areas, the Oyster Shucking Championship, and an Oyster Stew Cook-off.
Wilmington's Riverfest is celebrated in October and runs from the foot of Market Street to Cape Fear Community College. Currently drawing nearly a quarter-million people, Riverfest began in 1979 as a modest two-day event and has expanded to three fun and food-packed days.
Riverfest has about 200 craft and food vendors plus fireworks, entertainment on two stages, the Great Waiters Wine Race, Run the River 8K Race, various exhibits and a children's area. Additional Riverfest activities include skateboard competitions, street dance, wakeboard competition and a musical Battle on the River by a number of bands, a film festival, and Art in the Garden tours of gorgeous private and public gardens enhanced by art and music.
During Riverfest, the Invasion of the Pirates is a kind of festival within a festival, beginning with the arrival of the "pirate ship" on Friday evening, followed by the Pirates Ball. On Saturday, kids can participate in a treasure hunt and pirate costume contest.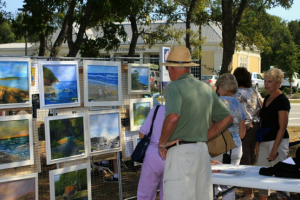 Sunset at Sunset Festival at Sunset Beach, NC
Sunset at Sunset begins at 10:00 near the Ingram Planetarium. Last year over 4,000 people attended!
The Sunset at Sunset event is fabulous! Great vendors, spectacular events, great music and tons of fun for everyone are in the plans. Also included is the 5K Beach Run/Fitness Walk for Adults and a Children's Fun Run.
At Holden Beach over the last full weekend in October, "NC Festival by the Sea" is hosted by the Holden Beach Merchants Association.
This 2 day events is kicked off with a parade down the Holden Beach causeway. This is the only day of the year that you can walk across the Holden Beach bridge and each year several hundred take that high altitude stroll to stake out the perfect spot to view the parade.
Arts and Crafts vendors are open from 9:00 am to 5:00 pm on Sat. and 9:00 am to 4:00 pm on Sun.
You'll want to plan to be onsite for at least a couple of meals and a snack or two, just to sample a tiny portion of the food on hand.
For the competitive sort, there is a horsehoe tournament and a sandcastle building contest.
Children enjoy face painting, huge kites flying overhead and the children's rides and amusements.
There is live musical entertainment both days at Holden Beach's new Pavilion. More info: https://greaterholdenbeachmerchants.com/
The event began with vendors selling their wares under the Holden Beach Bridge. Started in the 1980s, the Springtime festival called "Days at the Docks" hosts over 50 arts and crafts vendors and a dozen food vendors.
Days at the Docks is free to the public with free parking and free live entertainment all day. This year there will be a King Mackerel and Flounder Fishing Tournament with cash prizes. Also new this year, there will be a Cornhole Tournament in addition to the traditional Horse Shoe Tournament. For the kids, there will be inflatable rides, huge kites flying overhead and a free children's area with games and face painting.
Around 3 pm (depending on the tides), the world famous "Bopple Race" takes place. Buy your "Bopples" from any merchant prior to or at the festival for a dollar. The Holden Beach Mayor and commissioners toss the "Bopples" from the atop the Holden Beach bridge and the currents carry them toward the designated finish line. If your Bopple is first or second to cross the finish line, you win a handsome prize. What's a "Bopple?" Sorry, you'll have to attend to find that out.
The Azalea Festival is a celebration of Wilmington's outstanding artwork, gardens, culture and rich history during its five days of entertainment including: a parade, street fair, circus, concerts, pageantry, and all that is Southern.
Since its inception in 1948, the Festival has blossomed into an extended weekend celebration that attracts more than 300,000 people. The Festival is a non-profit civic organization and this year is sponsored in substantial part by its five (5) major sponsors: Progress Energy, Velocity Solutions, Inc., Wachovia Bank, the Hilton Wilmington Riverside, and Coastal Beverage.
For more than 50 years, the folks of Southeastern North Carolina have been throwing the best party in the South and you're invited! There's something for everyone among our community's rich array of artwork, gardens, history and culture. Come join the fun!
Event Include the Azalea 5k/Walk/Run, the Queen's Coronation, the concert featuring Kenny Loggins, the Circus, Art Show, Cape Fear Garden Club Azalea Tour, the Street Fair, parade, coin show, boxing match, the historic home show and so much more!